MINI MAINTENANCE OIL SERVICES
Regular oil changes are imperative for the health of your MINI Cooper. As your MINI ages, regular maintenance is even more important to keep your engine healthy and your MINI driving like-new. Bill Jacobs MINI in Naperville is proud to offer 3 years of prepaid oil changes for just $199. With the MINI Maintenance Oil Services program, you will receive 3 years of unlimited oil and oil filter changes, for one fixed price of $199. The prepaid MINI Maintenance Oil Service is available for drivers with a MINI 60 months or older.  All work included in the prepaid maintenance oil services is performed at our authorized MINI Service Center, by MINI Trained Technicians. Bill Jacobs MINI also uses MINI Original Engine Oil and Parts. If you are interested in purchasing this prepaid MINI maintenance oil plan, please ask one of our trusted MINI Service Advisors. Contact our MINI Service Center to learn more.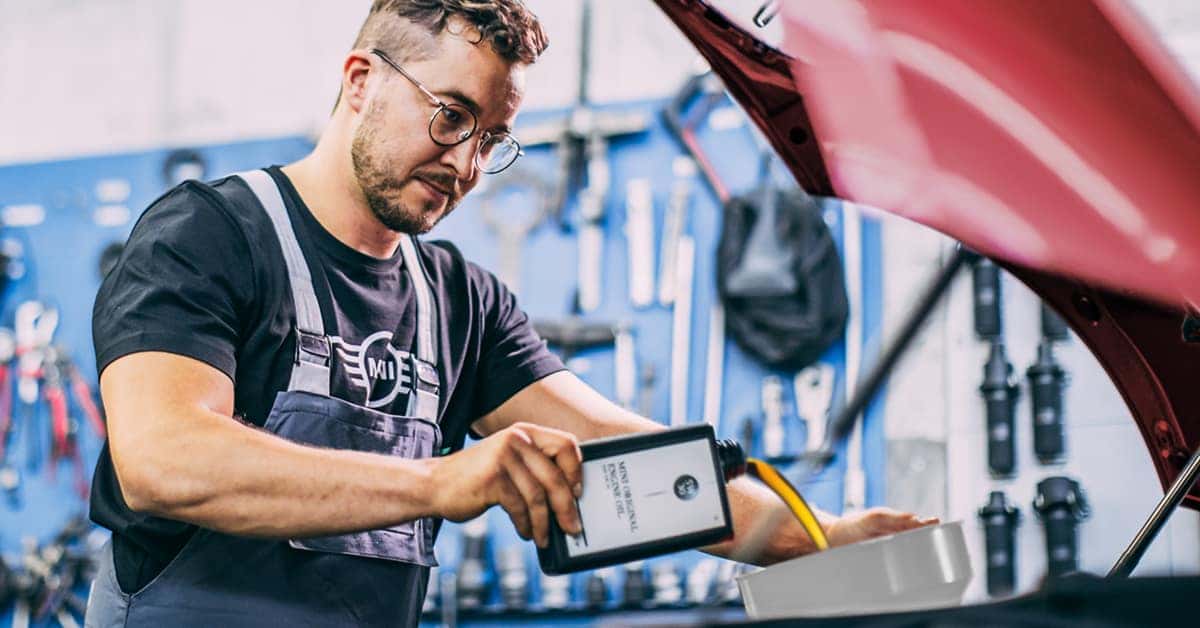 WHAT MINI MODELS ARE ELIGIBLE FOR THE MINI OIL CHANGE PROGRAM?
The MINI Ultimate Care Oil Maintenance Program is available for all MINI models older than 60 months OR at least 60,000 miles. This maintenance plan can be purchased as soon as the 1st day following the 60-month period or as soon as the car reaches 60,000 miles.
WHAT IS INCLUDED IN THE 3-YEAR MINI MAINTENANCE OIL SERVICES FOR $199?
The prepaid MINI oil change plan includes oil service and filter change and has a 3-year coverage period from the enrollment date, with no mileage restriction. Drivers can begin utilizing the oil-only service immediately after the coverage is purchased and active.
HOW DO I ENROLL IN THE MINI MAINTENANCE OIL SERVICES?
If you're currently driving a MINI Cooper that is 60 months or older OR has 60,000 miles or more, you could save on maintenance oil costs. Get 3 years of oil changes for just $199. To enroll, reach out to a trusted Service Advisor at Bill Jacobs MINI in Naperville.
MINI MAINTENANCE OIL SERVICES DETAILS
The MINI Maintenance Oil Services plan includes unlimited oil and oil filter changes for three years for $199 plus tax and disposal fees where applicable. Unlimited oil services included are based upon the associated MINI vehicle Condition Based Service (CBS) system. Available for all MINI vehicles that have reached 60 months or 60,000 miles and have no current MINI Maintenance+ coverage. All work is carried out by MINI Trained Technicians using MINI Original Parts, which come with a two-year unlimited mileage limited warranty. Warranty repairs do not constitute an extension of the original limited warranty period for the vehicle or a part thereof.
BILL JACOBS MINI AUTHORIZED SERVICE CENTER
Our MINI dealership in Naperville has been serving the motoring needs of MINI drivers for nearly seventy years. Our MINI Service Center believes in treating customers with transparency and strives to provide a first-class experience for every customer who brings their vehicle in for repairs. The service team at Bill Jacobs MINI is here to help you get your MINI Cooper back on the road in no time. Our MINI Service Center offers a variety of amenities to make your service experience with us the best yet. These service amenities include; White Glove Service Concierge, flexible service financing, alternative transportation with a fleet of courtesy cars, Active Service Reception, a customer lounge with WI-FI and snacks, and much more! If your vehicle is in need of an oil change, regular maintenance, parts, or more, please schedule your next service with us by clicking the "Schedule Service" button below. We look forward to servicing your vehicle.