BENEFITS OF BUYING A MINI COOPER
Owning a MINI Cooper vehicle from Bill Jacobs MINI in Naperville offers several benefits, making it an attractive choice for many car enthusiasts. Here are some of the advantages of owning a MINI Cooper:
Iconic Design: The MINI Cooper is renowned for its timeless and iconic design. Its compact and retro-inspired styling sets it apart from other vehicles on the road, making it instantly recognizable and adding a touch of personality to your daily commute.
Fun and Agile Driving Experience: MINI Coopers are known for their nimble handling and precise steering, providing an engaging and exhilarating driving experience. With their compact size, low center of gravity, and responsive engines, MINI Coopers excel in urban environments, allowing you to navigate tight corners and busy streets with ease.
Fuel Efficiency: The MINI Cooper is known for its fuel-efficient engines, which help you save money on fuel costs over time. The combination of lightweight construction, aerodynamic design, and advanced engine technologies contributes to their impressive fuel economy, making them an environmentally friendly choice as well.
Customization Options: MINI offers a wide range of customization options, allowing you to personalize your vehicle according to your preferences. From exterior colors and roof designs to interior trims and accessories, you can create a MINI Cooper that reflects your individual style.
Premium Interior: Despite their compact size, MINI Coopers boast well-crafted interiors that prioritize both style and functionality. The interior design features high-quality materials, comfortable seats, and intuitive controls, creating a refined and enjoyable driving environment.
Advanced Technology: MINI Cooper vehicles are equipped with advanced technology features to enhance your driving experience. Depending on the model and trim level, you can expect features such as touchscreen infotainment systems, smartphone integration, premium audio systems, advanced safety features, and driver-assistance systems.
Strong Resale Value: MINI Coopers tend to hold their value well over time, which can be beneficial if you plan to sell or trade in your vehicle in the future. Their desirability, distinctive appeal, and loyal fan base contribute to their strong resale value, providing potential financial benefits down the road.
Community and Lifestyle: Owning a MINI Cooper often comes with a sense of community and belonging. MINI owners often participate in club events, rallies, and meetups, allowing you to connect with like-minded enthusiasts who share your passion for these iconic vehicles.
MINI Maintenance Coverage: Your new MINI Cooper comes with Complimentary Scheduled MINI Maintenance, one of the most comprehensive scheduled maintenance programs in its class, covering recommended scheduled maintenance for up to 3 years or 36,000 miles (whichever comes first). Also included is the 4-year/50,000-mile MINI New Passenger Car Limited Warranty and a 12-year/unlimited-mileage warranty against rust perforation. covering your car bumper to bumper and everything in between, except the tires. Our Roadside Assistance comes standard with every new MINI for the first 4 years (miles are unlimited) anywhere in the U.S., Canada and Puerto Rico, offering towing, locked-out service, and on-site assistance.Bill Jacobs MINI also stands behind our Certified-Pre Owned vehicles. The MINI Certified Pre-Owned Limited Warranty provides specific coverage against defects in materials and workmanship. You're covered for 1 year/unlimited miles after the expiration of the 4-year/50,000-mile MINI New Passenger Car Limited Warranty, for a total of 5 years/unlimited miles. This includes up to 5 years of 24/7 Roadside Assistance.
It's important to note that the benefits may vary depending on the specific model and trim level of the MINI Cooper you choose, as well as your individual preferences and needs as a driver.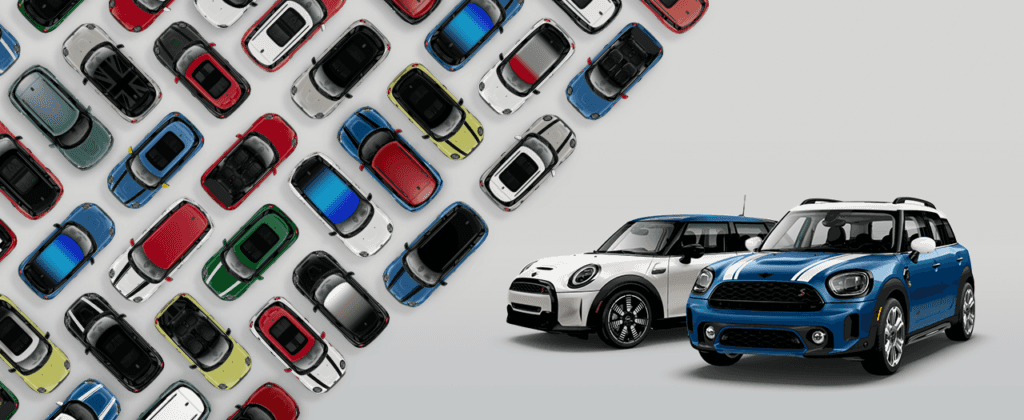 WHY SHOULD YOU BUY YOUR MINI AT BILL JACOBS?
Our team of professional MINI Motoring Advisors are trained to guide you through the process of buying your next MINI. The choice of picking which MINI, and all the personalization options, is right for you is always a tough one. You can count on the team at Bill Jacobs MINI to make your MINI ordering process quick, convenient and uncomplicated. At Bill Jacobs MINI, the cars bring you in and the experience brings you back.