WHICH MINI IS BEST TO LEASE?
Are you a MINI Cooper enthusiast and looking for the best MINI to lease? Look no further than the latest MINI lineup. Our personal opinion of the best MINI to lease is the 2024 MINI Cooper SE, the all-electric MINI Hardtop 2 Door.
THE FUTURE OF FUN: LEASE THE 2024 MINI COOPER SE FOR AN ELECTRIFYING EXPERIENCE
MINI has always been a brand that stands out when it comes to driving excitement, cutting-edge technology, and a commitment to sustainability. The automotive world is evolving rapidly, and MINI is at the forefront of this evolution with its latest offering – the 2024 MINI Cooper SE. If you're considering leasing a MINI and want the best of both worlds – a thrilling driving experience and eco-consciousness – then the 2024 MINI Cooper SE is undoubtedly the model to set your sights on.
ELECTRIFYING PERFORMANCE
The 2024 MINI Cooper SE is an all-electric powerhouse that takes the iconic MINI design and transforms it into a vehicle that's not only stylish but also environmentally responsible. Its electric motor provides instant torque, resulting in rapid acceleration and a zippy driving experience that MINI enthusiasts adore. With zero tailpipe emissions, you can cruise through city streets guilt-free, knowing you're doing your part to reduce your carbon footprint.
STUNNING DESIGN
One glance at the 2024 MINI Cooper SE, and you'll recognize the classic MINI DNA blended seamlessly with modern aesthetics. The iconic round headlights, playful stance, and distinctive grille all make a bold statement on the road. The compact size of the Cooper SE makes it perfect for maneuvering through crowded streets and finding parking spots with ease. Whether you're driving downtown or heading out for a weekend adventure, the Cooper SE's design is sure to turn heads.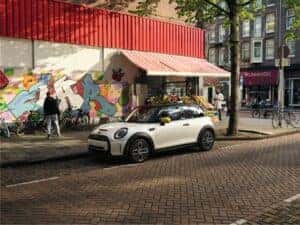 TECH-SAVY INTERIOR
Step inside the 2024 MINI Cooper SE, and you'll be greeted by a tech-savvy interior that seamlessly integrates modern convenience with MINI's signature charm. The digital instrument cluster and infotainment system keep you connected and informed during your journeys. Plus, with features like smartphone integration, advanced navigation, and voice control, every drive becomes an opportunity to enjoy the latest in-car technology.
RANGE & CHARGING
One of the key concerns for electric vehicle enthusiasts is range anxiety. The 2024 MINI Cooper SE alleviates this concern with an impressive range that's perfect for daily commutes and even longer journeys. With advancements in battery technology, you can enjoy extended periods between charges. And when it's time to juice up, you can take advantage of an expanding network of charging stations, making it easier than ever to keep your Cooper SE ready for your next adventure.
LEASING THE 2024 MINI COOPER SE
Leasing the 2024 MINI Cooper SE opens up a world of possibilities. You get to experience the thrill of driving a cutting-edge electric vehicle without the commitment of ownership. Leasing often offers lower monthly payments compared to financing a purchase, allowing you to enjoy all the benefits of the Cooper SE at a more affordable rate. Plus, when the lease term ends, you can easily upgrade to the latest MINI model, keeping you at the forefront of automotive innovation. Right now, you can take advantage of great lease offers on the 2024 MINI Cooper SE.
The 2024 MINI Cooper SE is a game-changer in the world of electric vehicles. With its electrifying performance, stunning design, tech-savvy interior, and eco-conscious mindset, it's undoubtedly the best MINI to lease for those seeking an unparalleled driving experience. Embrace the future of fun and sustainability by leasing the 2024 MINI Cooper SE from Bill Jacobs MINI, and get ready to embark on electrifying journeys that redefine what it means to drive a MINI.