2023 MINI COOPER PRICE LIST
Thinking about ordering a new 2023 MINI Cooper near Chicago? Many drivers from Naperville and the greater Chicago area wonder the same thing. The MSRP range for the new 2023 MINI lineup runs from $28,600 to $40,125 depending on the model and features you choose. Want to learn more about ordering a new MINI from the factory? Let our MINI dealership guide you through the process. Keep reading or contact us to learn more.
2023 MINI COOPER PRICES: MODEL LINEUP
The price range for the different MINI Cooper models available for ordering as follows:
2023 MINI Hardtop 2 Door: Starting MSRP – $28,600*
2023 MINI Hardtop 4 Door: Starting MSRP – $29,700*
2023 MINI Countryman: Starting MSRP – $34,950*
2023 MINI Clubman: Starting MSRP – $33,800*
2023 MINI Convertible: Starting MSRP – $33,800*
Each MINI model offers something different and there is a model for each lifestyle and budget. Every 2023 MINI model has superb technology and safety features, with the same go-kart drive as previous models. Own the road in a new MINI Countryman, Clubman, Hardtop 2 Door, Hardtop 4 Door, Convertible, or the newest all-electric MINI Cooper SE. Build your own MINI today from Bill Jacobs MINI. There's only one rule on the road: have fun!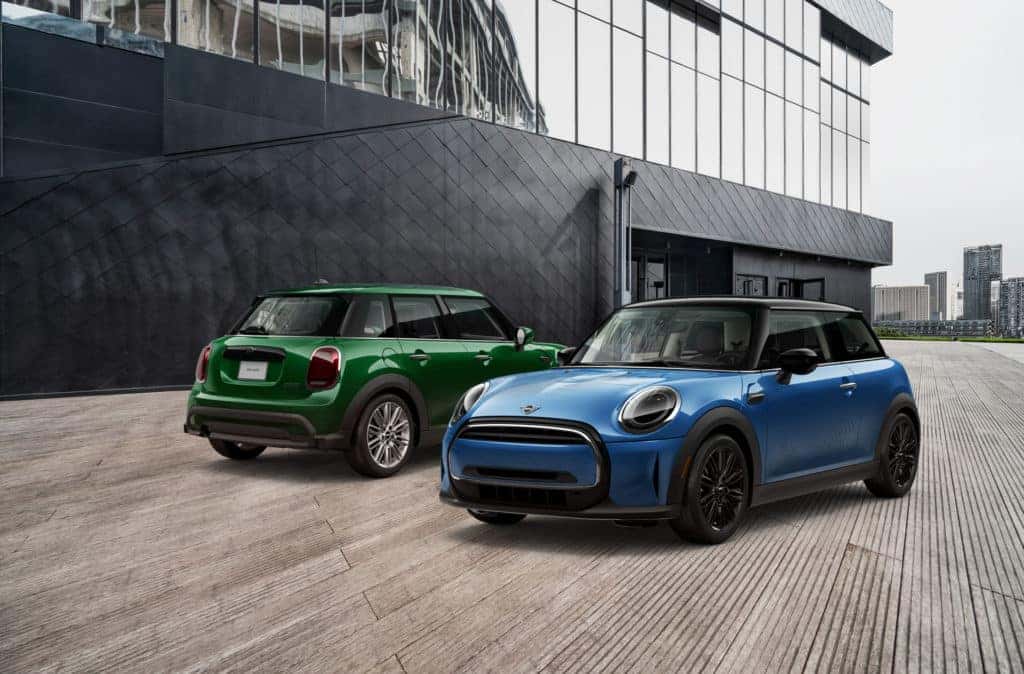 HOW MUCH DOES A SPECIAL EDITION 2023 MINI COOPER COST?
For the 2023 model year, there are three special edition models available. To learn more about the price of the 2023 MINI Cooper Special Edition models, click here.
The 2023 MINI Countryman Special Editions are known as Untamed, Untold, and Resolute. These Special Edition vehicles are priced ready to take you on your next adventure. The 2023 MINI Countryman Special Edition price starts at $36,750 and will maintain the style and personality you've come to expect of one of the most recognizable car brands. The new MINI Resolute Edition is the most affordable in the 2023 Special Edition lineup. Starting at $36,750 this exclusive special edition is available as a MINI Cooper S 2-Door, Cooper S 4-Door, Cooper S Convertible, or Cooper SE Electric Hardtop. All but the EV are based on the Cooper S model. The MINI Resolute Edition was built to be outgoing and designed to make an impression. Are you looking for something sophisticated with a wild side? The 2023 MINI Clubman Untold Edition, starting at $42,500, is a refined car with plenty of room for fun. Based on the S Clubman model this exclusive special edition is available as a Cooper S, Cooper S ALL4 or John Cooper Works ALL4 Clubman. The Untamed edition will be based on the Countryman S. This exclusive special edition is available as a Cooper S, Cooper S ALL4, or Cooper SE ALL4 Countryman. Starting at $42,750 the MINI Countryman Untamed Edition has everything you need to push the boundaries of fun and experience life to the fullest. Let the 2023 MINI Countryman Untamed provide that next-level fun you can always expect from a MINI.
ORDER YOUR 2023 MINI COOPER TODAY
Are you ready to hit the road in your brand new 2023 MINI Cooper from Bill Jacobs MINI in Naperville? Industry-wide supply issues impacting automotive manufacturing around the world may cause delays or non-availability of certain components, features, and models. Whether you are looking to purchase or lease the iconic successor to the original classic MINI in the MINI Hardtop 2 Door, the turbocharged motoring icon with 2X the doors in the MINI Hardtop 4 door, or the crossover that is fun and fearless in the MINI Countryman, the 2023 MINI lineup has something for every MINI enthusiast. Stop by and see us today to discuss your 2023 MINI order.
*Model year 2022 MSRP does not include destination and handling charge and excludes license, registration, taxes and options and labor to install. Certain features may be optional. Actual price determined by your authorized MINI dealer.